Accommodation in Náchod
We offer
3 double rooms
shared kitchenette, toilette and bathroom (for three rooms)
these 3 rooms are also available as a whole (flat)
restaurant 50 meters
supermarket Kaufland 800 m
centre of Náchod 2 kilometers
Price list
From 200 CZK person/night
Tourist attractions
The town of Náchod is situated at the foothills of the Krkonoše and the Orlické hory mountains on the north east of the Czech Republic about 2 km far from the boarder with Poland. It is one of the prominent centres of culture, history, sport and tourism in eastern Bohemia.
Places of Interest
Castles: Náchod, Nové Město nad Metují, Opočno, Ratibořice, Kuks.
Historical churches: Broumov (monastery), Police nad Metují, Hvězda, Jaroměř, Slavoňov (Baroque wooden church), Náchod, Hronov, Nové Město nad Metují.
Other historical places: fortresses from the World War II. (Dobrošov, Březinka), historical path with monuments of the war between Prussia and Austria in 1866, the military fortress of Jaroměř (18th century).
Museums (of national writers): Karel Čapek (Malé Svatoňovice), Alois Jirásek (Hronov), Božena Němcová (Česká Skalice and the famous Grandmother´s Valley).
ZOO Safari Dvůr Králové nad Labem
Sport
Hiking tours at the foothills of the Orlické hory mountains (30 km)
Beautiful rocks of Adršpach and Teplice, Broumovské stěny, Ostaš, the Javoří and the Jestřebí hory mountains.
Peklo (Hell), the picturesque valley of the river Metuje, a lookout tower of Dobrošov.
Lakes: Špinka and Brodský (15 km), Rozkoš (12 km Česká Skalice).
Swimming pools: (open-air) in Náchod-Plhov, swimming pool (indoor) in Náchod-Hamra.
Tennis courts (200 m, horse riding (1 km), rock climbing in Adršpach and Teplice Rocks and in Ostaš, bicycle tours, bowling.
In winter: 2 ski slopes (with lifts) and tracks for cross country skiing.
Trips to Poland
Gory Stolowe, Bor and Hejšovina (ranges of mountains, 15 km).
Trips to Wroclaw (140 km), Wamberzice – place of pilgrimage (35 km)
Cheap purchasing – Kudowa Zdroj (4 km), Klodzko (40 km).
Location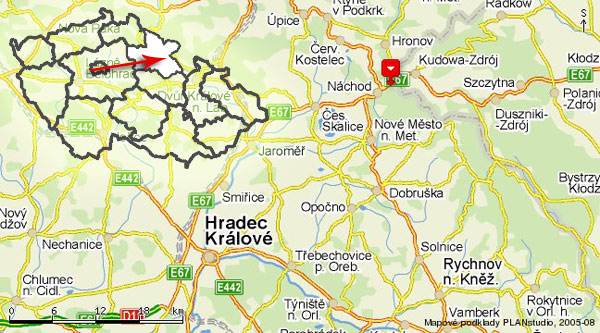 Prices from 200 CZK person/night
Contact
Stanislav Mašek
Lázeňská 39
547 01 Náchod
Czech Republic
+420 491 423 445
masek.stanislav@tiscali.cz
IČ: 11156384
IČP: 1000381803
registr.č.317 OŽÚ Náchod
č.j.10/218520/F-30